Bawarchi Biryani is a popular type of biryani served in Bawarchi restaurants, a famous restaurant chain in India and several other countries. Bawarchi, which means 'cook' or 'cook' in Hindi, is known for its delicious and flavourful biryani. The term "Bawarchi Biryani" has become synonymous with the particular style and taste of biryani associated with the Bawarchi chain of restaurants.
The unique taste and cooking method of Bawarchi Biryani has won a loyal following. It is characterized by an aromatic blend of spices, tender meat (often chicken or lamb), and long-grain basmati rice. Biryani is usually prepared using the dum technique, which allows the flavors to mingle and permeate the dish.
What do you need for a good Bawarchi Biryani?
Making a delicious Bawarchi biryani requires a combination of quality ingredients, aromatic spices, and a meticulous cooking process. Here's what you'll need to make delicious Bawarchi Biryani:
Ingredients:
For marinating meat:
Meat: Choose the meat of your choice like chicken, mutton, or beef, and cut it into pieces for biryani.
Yogurt: Thick, creamy yogurt for marinating meat.
Ginger-garlic paste: Freshly prepared or store-bought ginger-garlic paste for extra flavor.
Red chili powder: Gives the biryani its signature kick.
Turmeric Powder: Gives the marinade a nice color and enhances the flavor.
Salt: To taste.
For biryani:
Basmati Rice: Long-grain basmati rice for the perfect biryani texture.
Ghee: Ghee for cooking and refining biryani.
Onion: Thinly sliced onions, fried for flavor and garnish.
Green chilies: Chop green chilies for more flavor.
Cumin Seeds: Essential for softness and flavor.
Whole Spices: Mix green cardamom pods, cloves, cinnamon sticks, and bay leaves for a flavorful spice.
Saffron Threads: Soaked in warm milk to give the biryani a beautiful color and aroma.
Fresh coriander and mint leaves: for decoration and seasoning.
Fried onions: optional, to decorate and refine the taste.
Additional options:
Vegetables: If you are making a vegetarian version, you can add vegetables such as potatoes, carrots, and peas.
Nuts and raisins: For a richer biryani, you can add cashews, almonds, and raisins.
Freshly squeezed lemon juice: A little lemon juice for a zesty taste.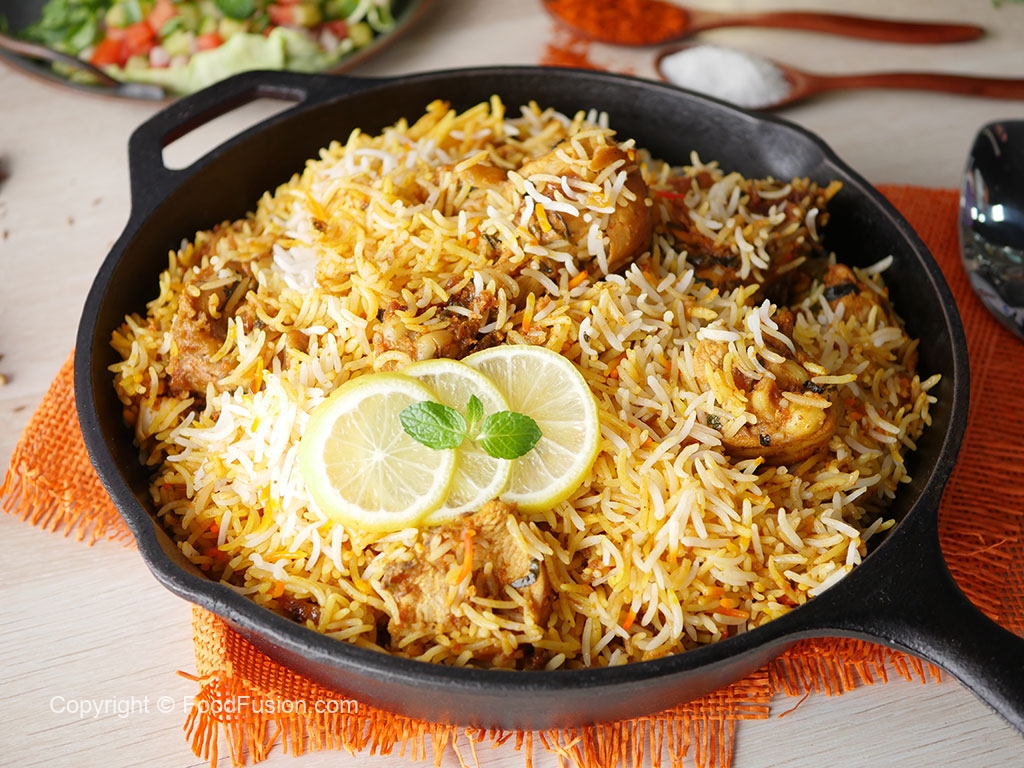 How to Make the Best Bawarchi Biryani?
Marinate the chicken:
In a bowl, mix the chicken with yogurt, ginger-garlic paste, red chili powder, turmeric powder and salt.
Cover and marinate in the refrigerator for at least 2-3 hours, preferably overnight for best results.
Cooking rice:
Bring water to a boil in a large pot.

Add the soaked and drained rice and cook until 70% cooked. After the rice has been rinsed, leave it aside.
Preparation of Biryani:
 Heat the ghee in a heavy-based pan or biryani pan over medium-high heat.

Add cumin, green cardamom, cloves, cinnamon, and bay leaves. Fry for a minute until fragrant.

Add chopped onions and green chilies. The onion should be fried until golden brown.
To prepare marinated chicken:
Add the marinated chicken to the pan and cook until the chicken is tender and cooked through.

Chicken pieces should be taken out and put aside.
Layer the biryani: 
Add half of the partially cooked rice to the same pan.

Place cooked chicken pieces on top of the rice.

Pour the saffron milk over the chicken.

Over the chicken, spread the leftover rice.
Doom Cooking (slow cooking):
Cover the pan with a tight-fitting lid and simmer over low heat (dum) for about 20-25 minutes to allow the flavors to meld and the rice to cook thoroughly.

Garnish with fried onions (if using), fresh coriander leaves, and mint leaves.
Serve:
Just before serving, gently stir the layers to mix the flavors.

Serve hot with raita and salad.
Tips for Bawarchi Biryani:
To make a delicious Bawarchi-style biryani, you need to master the art of spice mixing, marinating, and layering. Here are some tips to help you make an authentic and flavorful Bawarchi Biryani:
Improve Your Marinating:
Marinate meat (chicken, lamb, or beef) for a longer period, preferably overnight, so that the flavors of the meat can fully develop.

For the marinade, use a mixture of yogurt, ginger garlic paste, red chili powder, turmeric powder, and salt. Adjust the amount to achieve the desired level of spiciness.
Fragrant Basmati Rice:
Choose high-quality, aged basmati rice for its aromatic and long grains. Rinse the rice thoroughly and let it soak for at least 30 minutes before cooking to achieve the perfect consistency.
Layer technique:
Master the layering technique, an important aspect of Bawarchi Biryani. Start with a layer of marinated meat at the bottom, then a layer of partially cooked rice, and repeat.

Sprinkle a secret blend of spices, fried onions, saffron milk, and ghee between the layers to enhance the flavor.
Preparation of Dum:
Choose a "dum" cooking method to preserve the flavor of the biryani. Use a well-covered, heavy-bottomed pan to steam the biryani so that the meat and rice can absorb the aromatic spices.

Cook on low heat so that the biryani cooks perfectly without overcooking or burning.